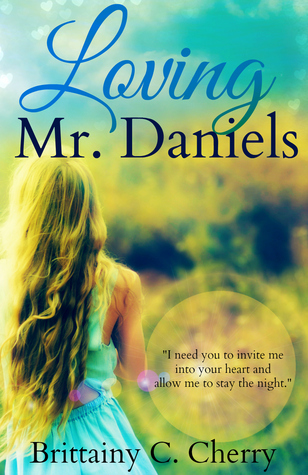 Synopsis:
To Whom it May Concern,
It was easy to call us forbidden and harder to call us soulmates. Yet I believed we were both. Forbidden soulmates.
When I arrived to Edgewood, Wisconsin I didn't plan to find him. I didn't plan to stumble into Joe's bar and have Daniel's music stir up my emotions. I had no clue that his voice would make my hurts forget their own sorrow. I had no idea that my happiness would remember its own bliss.
When I started senior year at my new school, I wasn't prepared to call him Mr. Daniels, but sometimes life happens at the wrong time for all the right reasons.
Our love story wasn't only about the physical connection.
It was about family. It was about loss. It was about being alive. It was silly. It was painful. It was mourning. It was laughter.It was ours.
And for those reasons alone, I would never apologize for loving Mr. Daniels.
-Ashlyn Jenning
---
Review:
Ashlyn Jenning lost everything. She lost her twin sister, because of it she lost her mother who couldn't look at her anymore. She lost her home and then she goes to live with the father she had lost a long time ago. He is just a total stranger to her, but she has no choice.
But, as she arrives at Wiscosin, things starts to change when she knows a mysterious guy. He invites her to go to his show at some bar, and she gets amazed with him without knowing that he is her high school teacher.
Daniel had a hard life time too, but he found some relief at his music and in his job – the job which make impossible his relationship with Ashlyn.
Now, they will have to handle with the fact that the only thing that looks like could help them can't happen.
---
My Opnion:
I don't know actually why, but I expected something a lot of different than this book is. By the name, it made me think it was a hot new adult novel. But actually it's a so much deeper history. A history about the human nature and they real pain.
My eyes filled with tears several times, but I didn't really cried. It's such a touching history, that makes you think about your own life, and how things could be so much difficult and how, even then, there are ways to find the way back to happiness.
It's about pure love in the essence. And the how powerfull this love can be. Mainly the family love. It's really beautiful.
And there was some parts (mainly one chapter ❤ ) that I thought just perfect.
But despite all of this, I didn't felt in the history. Maybe because I wasn't expecting so many losses and pain, ou because I never lived nothing like they lived… I couldn't establish the conection with the characters.
Still, I think it worth the reading! It's really touching.
Note: ❤ ❤ ❤ and a half ❤
The best things in life aren't easy.

They are tough, they are painful, and they are raw.

That makes the arrival to the final destination that much sweeter.